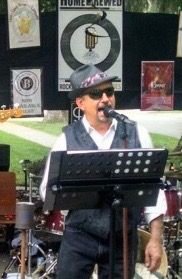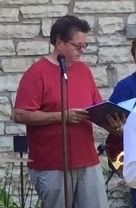 We are an Iowa City-based blues, rockabilly and rock'n blues band that plays what we call "Music with a Mission". Most of our gigs support local non-profits, who are doing their best to provide for the less fortunate in our community.
The band members include:
Pete Damiano (Lead vocal and harmonica) is the organizer of the band by night and a professor at the University of Iowa by day. He has been having a blast with the band for the past 2 years. Originally Pete got the band together after participating in Jon Gindicks's Harmonica Jam Camp in Clarksdale MS in the spring of 2014. He feels very fortunate to be able to play with such a talented group who are community minded and willing to use the band to give back, playing many fundraisers for worthwhile organizations.
Mark Fiagle (Sousaphone, baritone sax, vocals). Mark is enjoying a musical renaissance-he was a music major in college but never used his musical talents until joining HomeBrewed about 2 years ago. He has spent his life around instruments-repairing them for West Music. Now he has gotten a change to showcase his talents publicly and is having a great time.
Geb Thomas (keyboardist) has been a gigging bassist for over 10 years, and plays for local theater and other community-oriented events (when he's not being a professor in the College of Engineering). He has taken on the relatively new role of keyboardist, opening a bass slot for his grad student Oliver Stroh (what a mentor).
Bryce Bernard (guitar) is an instrument repairman at West Music and a classically trained clarinet player who also dabbles on the saxophone. In addition to playing with HomeBrewed, Bryce often plays for community theater events and also plays in a hard rock/metal band called Heathen Soul: https://www.facebook.com/HeathenSoulBand/
Cameron Gray (Drums) is a dental resident from Rochester MN. Cameron has been with the band for three years. He's an accomplished musician, able to pay guitar and keyboard in a pinch. He honed his skill playing in the church band (like many great musicians).
Cameron Gray (Drummer too) is a current dental student and has been playing percussion since the age of 7, mainly playing in school and church bands. His favorite genre of music is indie rock and likes to collect records in his free time. He is sharing duties with Jacob based on schedules—they arm wrestle for the gigs  :0)
Shaan Desai (tenor sax) is a Cedar Rapids dentist from Primghar, Iowa who played saxophone in his college jazz band, winning accolades at the state competition. His favorite saxophonist is Phil Woods and his favorite sports are golf and ping pong.
Kirk Phillips (Trumpet) has 50 years of experience playing the horn. Kirk has been a collaborator with many church choirs over his lifetime. By day he is a health care IT expert.
Scott Owen is the newest member of the band playing guitar (and the newest father in the band (Griffen is adorable!). By day, he is an ENT plastic surgeon at University of Iowa Hospitals and Clinics. By night, he likes laying down fun riffs!